Chief Anthony J. Facchini was raised in Union City, attending St. Michael's Grammar School and Emerson High School. He holds a Bachelor of Science in both Criminal Justice and Finance from New Jersey City University. He has been a sworn member of the Union City Police Department since April of 1998 and began leading others in 2008 as a Sergeant, in 2013 as a Lieutenant, and in 2018 as a Captain.
In August of 2022, Chief A. Facchini began his new position as the Chief of Police for the Union City Police Department and officially being sworn in on August 19, 2022.
Before becoming the Chief of Police, Chief A. Facchini served in various capacities in nearly his 25 years of dedicated service to the City of Union City including Day Shift Patrol Commander, Investigative Division, and the Internal Affairs Bureau Commander. In 2016, Chief A. Facchini spearheaded the Union City Police Department in receiving its inaugural Accreditation Standard.
Chief A. Facchini's leadership style is and always will be, to lead from the front. By playing an active and visible role, Chief Facchini will impart trust, confidence, and fairness to all the men and women of the Union City Police Department.
Captain Walter Laurencio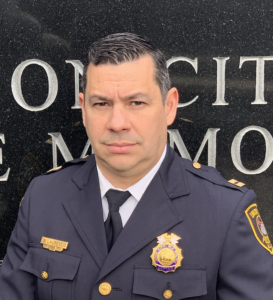 Captain Walter Laurencio was born in Cuba and came to the United States at the age of 3. His family briefly lived in Queens, NY before they settled in Union City. Captain Laurencio attended Washington School and Jefferson Annex Grammar schools before graduating from Union Hill High School in 1994. He holds a Bachelor's Degree from The College of NJ and a Master's Degree from Seton Hall University.
Captain Laurencio started his law enforcement career with the Hudson County Sheriff's Office before being hired by the Union City Police Department in 1999. He is a graduate of Essex County Police Academy class 99-3. As a Police Officer and Detective, he served in the Community Policing Unit, Narcotics Task Force, and Patrol Divisions. He has been a member of the Emergency Services Unit (ESU) since its inception in 2004. In 2008, Captain Laurencio was promoted to Sergeant. In 2013, he was promoted to Lieutenant and then promoted to Captain in 2020. He has served as the Chief of Staff for Chief Brian Barrett (Ret.), Chief Richard Molinari (Ret.) and Chief Nichelle Luster. He has also served as the Patrol Division Commander, Investigative Division Commander, and in his current role as the Professional Standards Division Commander.
Captain Michael Bergbauer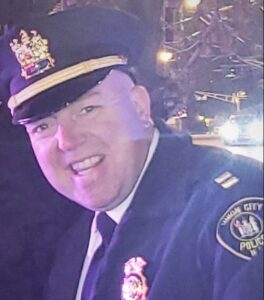 Captain Michael J. Bergbauer – a second-generation police officer (father – retired Inspector Michael H. Bergbauer) who was raised in Union City, and joined the department in 2004 after serving as a Hudson County Sheriff's Officer and Corrections Officer.
Achieved B.A. in Political Science from New Jersey City University (2009) & M.A. from Seton Hall University's Police Graduate Program – Human Resource Training & Development (2020).  Captain Bergbauer achieved the rank of Sergeant in 2011, Lieutenant in 2016 & Captain in 2021. Captain Bergbauer has proudly served in the patrol division on nights for the majority of his career.  Currently, Captain Bergbauer is in charge of the Community Policing Unit and Morning Tour.  He is married with three children.